Time Zone Chaos Inevitable in Egypt
I would like to give everyone a heads up about the situation in Egypt.  There is likely to be some confusion over the next week or so about what the local time is in Egypt, and it's entirely possible that the computers of the world may be erroneously blamed for the disarray.  The responsibility lies entirely with the Egyptian government, who have presented multiple conflicting statements, with no official law or decree published, and are now arguing daily about which branch of government is actually allowed to be in charge of controlling the time zone.
Note: Some of the articles linked below may be in Arabic.  If, like me, you do not read Arabic, consider using the Google Translate Plugin within Chrome.  It works much better than using the Google Translate site directly, and better than other translator tools I have tried.
Originally, the Egyptian Cabinet announced (on April 29th, 2016) that daylight saving time was to take effect starting July 7th at 24:00 (which is the same as July 8th at 00:00), and that it was to go through "the end of October".  This was widely interpreted as meaning it would end on Friday October 28th at 00:00 - as in the past all DST changes in Egypt have occurred on Fridays.  This was agreed upon by all key parties in the time zone community, including IANA, Microsoft, and third party sites.
Both IANA and Microsoft released updates accordingly.  IANA with TZDB 2016e, and Microsoft with the June 2016 DST/TZ Update.  Between the two of these, it is likely that most computers and smartphones will advance their clocks by an hour on the morning of July 8th.  Well, at least those that have the updates installed will anyway.
However, two months later on June 27th, with less than two weeks before the previously announced effective date, the Egyptian Parliament voted overwhelmingly to abolish daylight saving time completely.
This has been followed up with many other news reports, including:
And of course, the kicker is that even with all of these votes and announcements by the warring parties, there is not a single stitch of official published documentation to be found.  Not a single law passed, decree proclaimed, or even any acknowledgement by the State Information Service.  There are lots of other things being published - but somehow something as vital as a time change isn't worthy of documentation.
I previously wrote about the issues with short-notice time zone changes, and described what has happened in other countries in the past.  I also gave some advice to countries that are making time zone or daylight saving time changes - advice that Egypt certainly has not heard.  I'll also quote a member of the IANA TZ community who said it quite well:
If only it were made more clear that there very likely exists a point in time beyond which the costs incurred from having to deal with any particular observance or non-observance of DST are dwarfed by the costs incurred from uncertainty and duplication of effort in the lead-up to and in the wake of last-minute policy changes.- Tim Parenti
July 1, 2016
At this point, all any of us can really do is monitor the situation and hope that things work themselves out.  The best case would be for the start of DST to occur as it was originally announced and implemented in technology - on midnight between July 7th and July 8th.
Either cancelling DST for this year, or moving the start date up, will mean that the clocks on computers and smartphones will not agree.  The likelihood of economic impact would increase significantly.  Some people will miss important meetings.  Some people will miss their flights.  It will likely affect stock trading, traffic patterns, and other aspects of society that are time sensitive.  Some aspects of this are inevitable no matter what happens, as just like financial markets, uncertainty is never a good thing.
Whatever happens - next time around, please Egypt, announce the change far in advance, in an official published decree or law, and do not deviate from it at the last minute, or even entertain the idea of deviating from it.  The turmoil that uncertainty creates is more costly than any potential energy savings.
First Update
July 4th, 2016
On July 4th, just four days before DST would go into effect, the Egyptian Cabinet announced that they would accept the Parliament's decision to abolish DST.  While it's good to finally have consensus, the timing is pretty awful.  There's just not enough time to create, test, distribute, and install updates for computers and smart phones.  Thus it's quite likely that on July 8th, there will be considerable confusion about what time it is.
As a general recommendation, users in Egypt should temporarily disable daylight saving time on their computers and devices, if their devices support doing so.  Otherwise, they can choose a nearby UTC+2 time zone that does not use daylight saving time this year.  Libya or South Africa are reasonable choices.  Eventually, software vendors will distribute the appropriate updates and users can switch back to Egypt time after installing them.
Second Update
July 6th, 2016
Third Update
July 6th, 2016
Fourth Update
July 7th, 2016
As I'm writing this from the USA, it's July 7th still, but in Egypt it's already in the early hours of July 8th.  After the clocks struck midnight, several reports began coming in: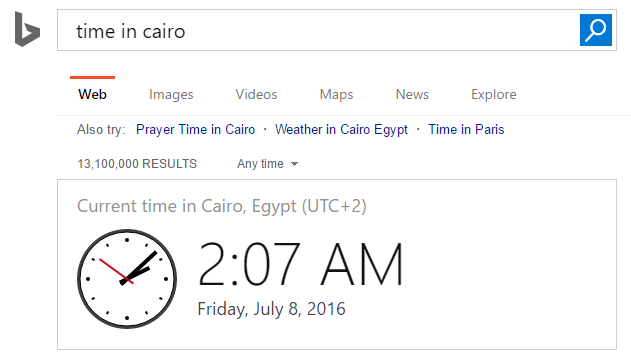 Also, there were several reports about comments by a member of the TZ community.  Some reports were more accurate than others.  The comment in question was the well-established adage:
"Poor planning on your part does not constitute an emergency on mine!"
(widely attributed to Bob Carter)
In this case, the TZ member who aptly used this quote to describe the Egypt DST situation was absolutely correct, and I stand with him in this regard.  However the comment was misinterpreted by several Egyptian outlets as a refusal to help.  Other news reports were a bit more accurate. This one is probably the best I could find, and includes additional details.  Indeed, a fix was already in progress, and was released by IANA the very next day.
Fifth Update
July 8th, 2016
As expected, there are even more reports of time confusion today:
Sixth Update
August 18th 2016
Microsoft has finally released a fix for Windows, in KB3177723.  Windows 10 users can simply install the latest OS build to receive the update.
Additional updates will follow as this event unfolds.